PACE School Overview
PACE School is a non-profit, non-public school, certified by the California Department of Education and accredited by the Western Association of Schools and Colleges. PACE School serves students ages 6-22 who live with moderate to severe Autism, with a specific emphasis on non-verbal students and those with especially challenging behaviors and communication disorders. All enrollment is conducted through a referral from a local school district.
PACE implements a team approach to learning. The team includes:
the parents
the student
an instructional aide
a special education teacher
behavior support personnel
an occupational therapist
a speech and language pathologist
Typical Schedule
9:15: Arrival
9:30: Walk/P.E.
9:45: Morning meeting
10:00: Goal work
10:30: Recess / Snack / Sensory
11:00: Therapy
11:30: Math Class/Language Arts
12:00: Lunch / Recess / Sensory
1:00: History/Science/Art
1:30: Therapy
2:15: Dismissal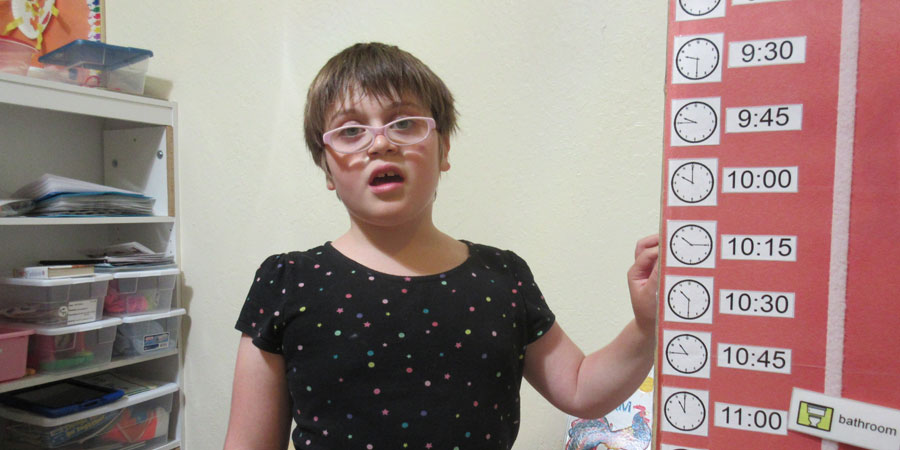 School Curriculum
PACE employs an interdisciplinary approach that respects each individual's motivation and desire to learn. The curriculum is taught in large groups, in small groups, and one-on-one and allows us to focus on each child's needs as determined through the Individual Education Plan (IEP) goals and objectives.
Our program educates the whole person both in and beyond the classroom:
Sensory strategies help each student make his or her way through the world
Functional academics include math, science, history, and language arts
Employment and vocational skills are also emphasized
Music, art, and fitness round out the curriculum
Community skills, or how a student interacts and understands the wider community, are developed with regular trips into the community in PACE-owned vans
PACE is also an innovative leader in the use of technology and video to supplement a student's program
Measurable Assessments
The PACE treatment methodology is reinforced by unique measurable, replicable assessments that focus on the functional development of an individual through all stages of life.
Our behavioral interventions are data-driven and are updated regularly to reflect current data.
Functional analysis of behavior allows us to tailor each student's behavioral program to meet the student's specific behavioral needs.
We use video tracking to follow each student's progress and illustrate the met goals of a student's IEP.
PACE School Therapy Department
Speech and Occupational Therapy are important elements of students' Individualized Education Plans (IEP). One of the unique program aspects of PACE School is the full-time onsite integration of speech and OT therapists into our daily activities. Therapists and classroom teachers work as a team to meet the individual needs of each student.
John has autism which makes learning new things very hard. PACE provided the environment where he could learn. He is self-sufficient, helpful, and interactive – he soon was even helping other students answer questions in class!
PACE School Parent
I was just in a McDonald's in Cupertino and noticed a number of your vans were parked outside. I was stopping in for a quick bite between meetings and couldn't help but notice how generous and amazing your volunteers and employees were. After watching them for about 20 minutes I offered a small donation and hopefully it went directly to the kids that were there but what really surprises me was how appreciative everyone was and I had no idea. I was thanked graciously and two women (how I wish I knew their names) were actually shedding tears. What a wonderful organization. You have my support.
Community Member
I wanted to thank you for the beautiful Graduation Ceremony at PACE. We all enjoyed it very much. The time flew by so fast. PACE has been a huge stepping stone for my son. You all have been so supportive and compassionate and I truly thank you for that. My son is so excited to start his new day program. He has met other clients there and has already paired up with his group leader. I think I'm more nervous about my son starting a new program but I know PACE has fully prepared him for this as well. Once again, thank you. Best wishes to you and PACE and keep doing what you all are doing at PACE for our children. God Bless you all.
A PACE Parent
PACE Speech and Language Therapy
Four full-time speech-language pathologists provide services to our students with communication disorders through a Total Communication Approach.
Students learn multiple ways to initiate and respond to people, communicate their needs, and appropriately comment on their environment.
Each student's communication system is tailored to fit his or her unique needs.
Some students communicate verbally, while others use picture exchange, sign language, voice output devices or a combination of systems.
Students' receptive language skills, or how they understand language, are also emphasized and developed with visual supports and schedules.
Students also practice pragmatic language, or how to use language socially, in a variety of contexts by learning expected behaviors in multiple social situations.
Individual or group therapy is available in a variety of settings depending on the student's needs.
Training can be provided to families.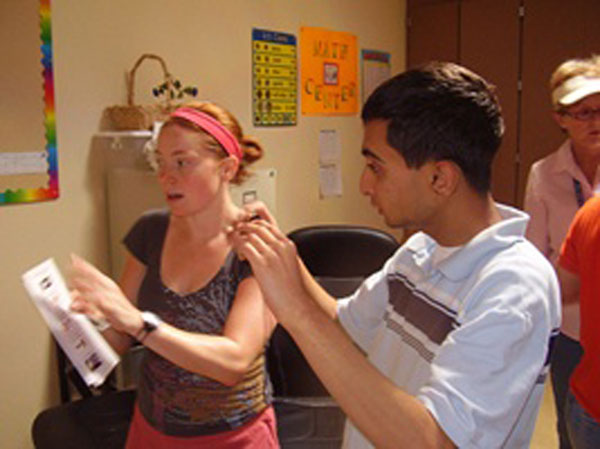 PACE Occupational Therapy
Four full-time occupational therapists provide individual, group, and consultative services.
Therapeutic goals address:
gross and fine motor development
visual motor integration
visual-perceptual skills
self-care skills
independent living skills
pre-vocational skills
Intervention may include:
sensory integration strategies
sensory diet application
environmental modifications
use of adaptive equipment
Therapeutic Listening (Listening With the Whole Body)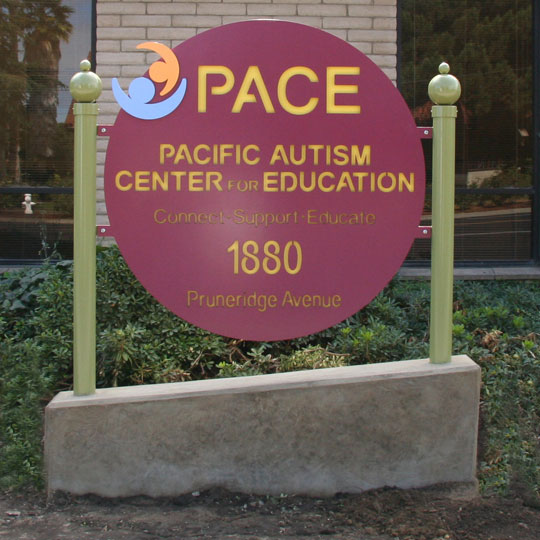 PACE School Building
In January 2008, PACE relocated to its own privately owned facility designed around the special needs of the autism population. Creating the building from the ground up allowed special design elements such as natural lighting, precision climate control, hypoallergenic materials and flexible therapy spaces—an energy efficient and natural environment that is consistent with green initiatives and supports the sensory needs of PACE students.
Take a Tour
The PACE School operates as an extension of your local school district. When there is a request for a placement in our school, we work with the school district to determine if the placement is suitable. We also coordinate tours in conjunction with the school. If your child is currently enrolled at a Bay Area public school, please begin the process by talking with your local special education coordinator from the district about an alternative placement.
We welcome you to tour our facilities and learn more. To do so, please contact us at: email hidden; JavaScript is required
Program Contact
Manju Prabadaran – School Administrator
email hidden; JavaScript is required
Location
PACE School
1880 Pruneridge Avenue
Santa Clara, CA 95050
T: PACE School Phone Number
F: PACE School Fax Number
email hidden; JavaScript is required
PACE school is close to Santana Row and Valley Fair Mall.